This message is only visible to admins.

Problem displaying Facebook posts.
Click to show error
Error: Server configuration issue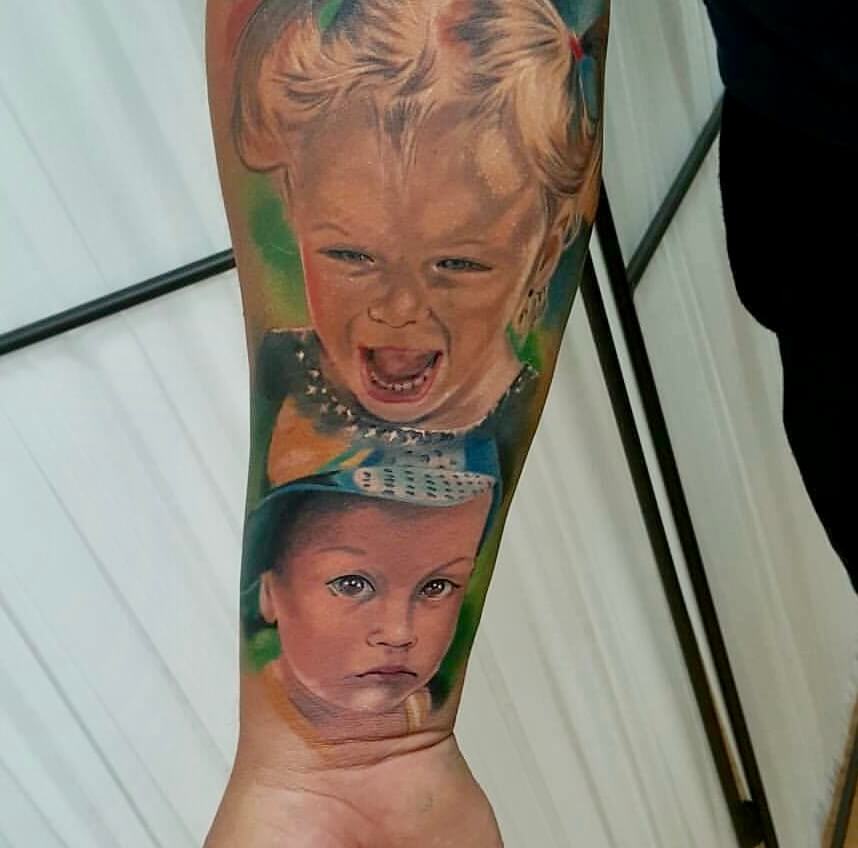 Bekijk meer voorbeelden
Tattoo verwijderen prijzen
Hoe de prijs tot stand komt
Het is enorm lastig om online, per e-mail of telefonisch een prijsindicatie te geven van wat het kost om een tatoeage geheel te laten verwijderen. Het aantal benodigde behandelingen hangt bijvoorbeeld af van de grote van de tattoo, de gebruikte kleuren en jouw huidtype. Vooral donkere huidtypes (type 5 en 6) kunnen problemen ondervinden bij het verwijderen van tatoeages. Hierbij is de kans op blijvende pigmentveranderingen groter dan wanneer je een lichter huidtype heeft. Ook is het voor je behandelaar belangrijk om te weten of je de oude tatoeage wil laten coveren, of volledig wil laten verwijderen. Wanneer je voor een cover kiest is het aantal behandelingen namelijk ook afhankelijk van de nieuwe tatoeage. Wel kun je ervan op aan dat het aantal behandelingen minder zal zijn dan wanneer je voor volledige verwijdering kiest.
Gratis consult
Omdat we al deze aspecten moeilijk telefonisch of per e-mail kunnen beoordelen vragen wij je altijd om persoonlijk naar de shop te komen. Zo kunnen we jouw huid en tatoeage bekijken en deze bespreken. Na het consult ga je altijd de deur uit met meer informatie en een prijsvoorstel.
De prijzen van Dutch Ink
Je kunt er vanuit gaan dat als je jouw tatoeage door een kliniek laat verwijderen je voor een kleine, bijvoorbeeld vingertatoeage, al snel €50,- per behandeling kwijt bent. Omdat het niet te zeggen is hoeveel behandelingen je nodig hebt kan dit tot maximaal 20 behandelingen oplopen. Dit zou je dus al snel 20 x €50,- kunnen kosten.
Wij houden het liever helder. Bij Dutch Ink werken we altijd met een vaste prijs. Dit vinden wij wel zo helder en eerlijk richting jou als klant. Je komt langs, we bekijken samen hoeveel behandelingen er plusminus nodig zijn en daar maken we een vaste prijs voor.
Dezelfde kwaliteit, maar altijd goedkoper dan in een kliniek!
Laten we zeggen dat we denken dat er 14 behandelingen nodig zijn, dan betaal je bij ons slechts 7 behandelingen. Al worden het daarna toch 20 behandelingen, door de vaste prijs van Dutch Ink betaal je niets bij!
Prijs is prijs bij Dutch Ink
Betaald je in een kliniek €1000, dan betaal je bij ons €500.
Betaald je in een kliniek €4000, dan betaal je bij ons €2000.
Het scheelt je gewoonweg de helft, met dezelfde apparatuur, dezelfde garanties en een betere service.
Waarom zo goedkoop?
In een kliniek betaal je iedere keer dat je langskomt. Bij ons betaal je de eerste sessie het afgesproken bedrag, daarna betaal je niets meer. That's part of the deal.
Hier vindt je meer informatie over het laten verwijderen van een tatoeage bij Dutch Ink.