This message is only visible to admins.

Problem displaying Facebook posts.
Click to show error
Error: Server configuration issue
Marco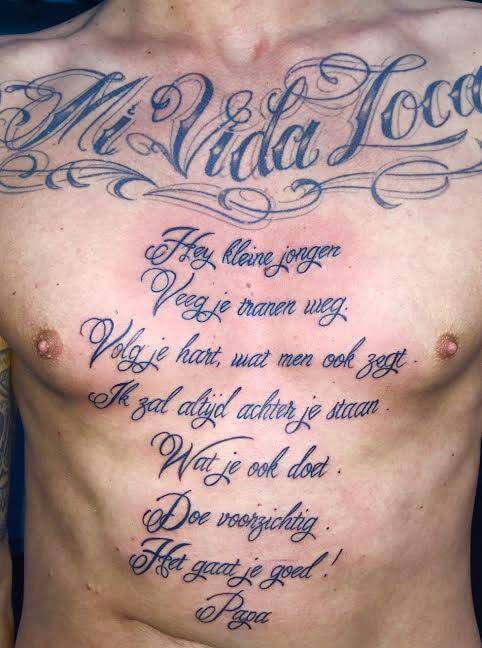 Marco, ken 'm al een poosie…
maatje van Kay, vriend vd
Dutch Ink family en Tattoo addict!
Best ventje, houd van een geintje, een harde werker en een hart van goud.
Jaartje geleden werd ze vader ziek, dezelfde klote ziekte als waar mijn vader aan overleden is, keer op keer hoop, iedere keer verdampte die hoop als sneeuw vd zon, 2 stappen vooruit, 3 stappen achteruit.
Wat ken je nou voor die jonge doen!
Nix, Nakes, Nada, its life. Ik hoef hier geen blad vd mond te nemen, marco kent me, is uit het zelfde hout gesneden als ik. Soms kwamtie op zaterdagmiddag ff buurte, maar Kay of ikzelf zei dan, ga naar die ouwe van je, pak het moment, pak elk moment dat je dat kan doen! Tuurlijk deed hij dat al, maar ja.
Ze vader werd ergens in november opgenomen en is niet meer thuisgekomen.
Hij draagt zijn verdriet in stilte en aan de buitenkant als een man, tis geen jankerd terwijl dat echt gewoon kan bij ons.
Vandaag kreeg hij van ons een Tattoo van het laatste stukje tekst geschreven door zijn vader aan hem. Toen het erop stond las ik het, keek naar hem, en liep weg.
Vergeet niet te zeggen hoeveel je van mekaar hou.
Have A Nice One Y'All