This message is only visible to admins.

Problem displaying Facebook posts.
Click to show error
Error: Server configuration issue
What's your story?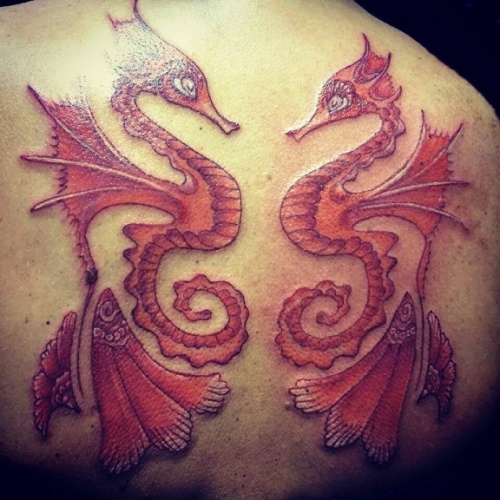 PowerGirl, 8 december 2014
Ze stapte een maandje of wat geleden de shop binnen, wist precies wat ze wilde, waar ze het wilde, afmeting, kleur de hele reutemeteut.
Lukasz (R.I.P) Zou hem gaan zetten, zeepaardjes, Full Backsite!
Door het onverwachts overlijden van Lukasz moesten we schakelen wie het zou doen. Na heen en weer filteren onder elkaar werd duidelijk dat Gerrit het wilde doen.
Na veel heen en weer gebel en geapp en wat bezoekjes aan de shop was het na een paar weekies zover, de zeepaardjes zouden worden gezet. We waren bijna net zo zenuwachtig als Gerrit en Mireille, want iedereen kende de dame inmiddels beter na de eerdere bezoekjes aan Dutch Ink.
Ik wist waar ze voor stonden, de rest niet, we hadden het besproken, zijdelings er over gehad, wist dat het een zware tijd voor d'r moet zijn geweest.
Het was bikkelen, maar ze gaf geen kick, bleef zitten, maar toen ze der eenmaal opstonden werden de emoties haar teveel.
Verdriet vermengt met vreugde en trots!, De zeepaardjes stonden d'r op!
Het verlies, een paar jaartjes geleden, ik denk/hoop dat we je "waar we konden" hebben kunnen ondersteunen en iets hebben toe kunnen voegen aan wat je een leven lang met trots bij je zal dragen.
De Tatoeage is schitterend geworden en zal ons altijd bijblijven net als de draagster ervan.
Thanks voor je vertrouwen gezelligheid en doorzetting vermogen Mireille.
You Are A One Man Army.
A Real Dutchie.
Wil je jouw verhaal terugzien op de website? Geef dit dan aan als je in de shop bent.